Transaction Analysis: A Credit Union's Perspective
by Hannah Barrett, on November 3, 2021

What is Transaction Analysis?
Transactional data allows credit unions to uncover the answers they need to improve their relationships with members and therefore their ability to serve them. When all data systems are effectively speaking to one another, then all of the data can be collected up into one place, which makes this possible.
To build confidence in your data analytics results, Arkalytics identifies data quality defects as defined by a set of pre-defined rules. When an error is identified, your team can remediate the defect and track your cleanup success over time. Additionally, this tool can be used in root cause analysis to eliminate defects from happening in the first place. It is of the utmost importance that credit unions have the technology and infrastructure in place to achieve the level of data quality needed to derive the valuable information that exists within their transactional data.

ORNL Federal Credit Union's Data Analytics Journey & Use of Transaction Analysis
Founded in 1948, ORNL Federal Credit Union is a not-for-profit, member-owned financial cooperative in Tennessee. ORNL FCU's mission is to help their members create healthy relationships with their money, and in order to do this, they needed technology that would allow their small 3 person team to provide data analytics to credit union employees in a variety of departments.
After assessing their options to achieve this goal, they decided that Arkatechture was the best fit for them, and in just a few months, Arkalytics was implemented. ORNL FCU found the implementation process to be smooth and easy, as they barely had to get their IT department involved at all. ORNL FCU had 6 data sources for Arkatechture to draw data in from:
Symitar
PSCU (credit card provider)
CUDL (loan applications provider)
Roundpoint (mortgage provider)
Silverlake (commercial lending provider)
Openclose (future mortgage application system)
ORNL FCU's goals for year 1 with Arkalytics were:
To complete data warehouse setup
To create processes for data quality review
To assist with targeted marketing campaigns
To establish a process for ensuring proper representation during projects and system changes
ORNL Federal Credit Union's Progress with Transaction Analysis
Arkatechture offers customization so that clients can create and build custom data visualizations and dashboards with the analytics sandbox tool in Arkalytics, which leverages Tableau Software. The ORNL FCU team knew that constructing a transaction heat map would be a very useful tool for them, and with Arkatechture's help, they built one.
With this tool, they could now section out all transactions and the different channels the credit union had available. The heat map allowed ORNL FCU to see all transactions conducted through any given channel in any given time range. The heat map shows when members are in the branch conducting transactions, and when the most transactions occur, serving as a window into the day-to-day operations of every branch. They also added a feature to filter to see only digital or phone transactions.
The Impact
After just a few months of having the transaction heat map up and running, ORNL FCU was already able to reap the benefits. They were able to move staff mid-shift to cover periods of time that historically branches have had peak hours. This increase in branch staff scheduling efficiency was particularly helpful with the current staffing shortage.
What's Next for ORNL FCU's Data Journey?
ORNL FCU plans to add the data and filters to be able to view what types of transactions were being made at any given time. With Arkalytics, clients can consistently tweak their data vision, and we help make it a reality. They also plan to add their timesheet data to the transaction heat map in order to calculate transactions processed per every half hour worked, and further optimize the placement of employees through the branch network. This means they would be able to do their scheduling backed up by historical data and no longer by manager observation as it had been done in the past.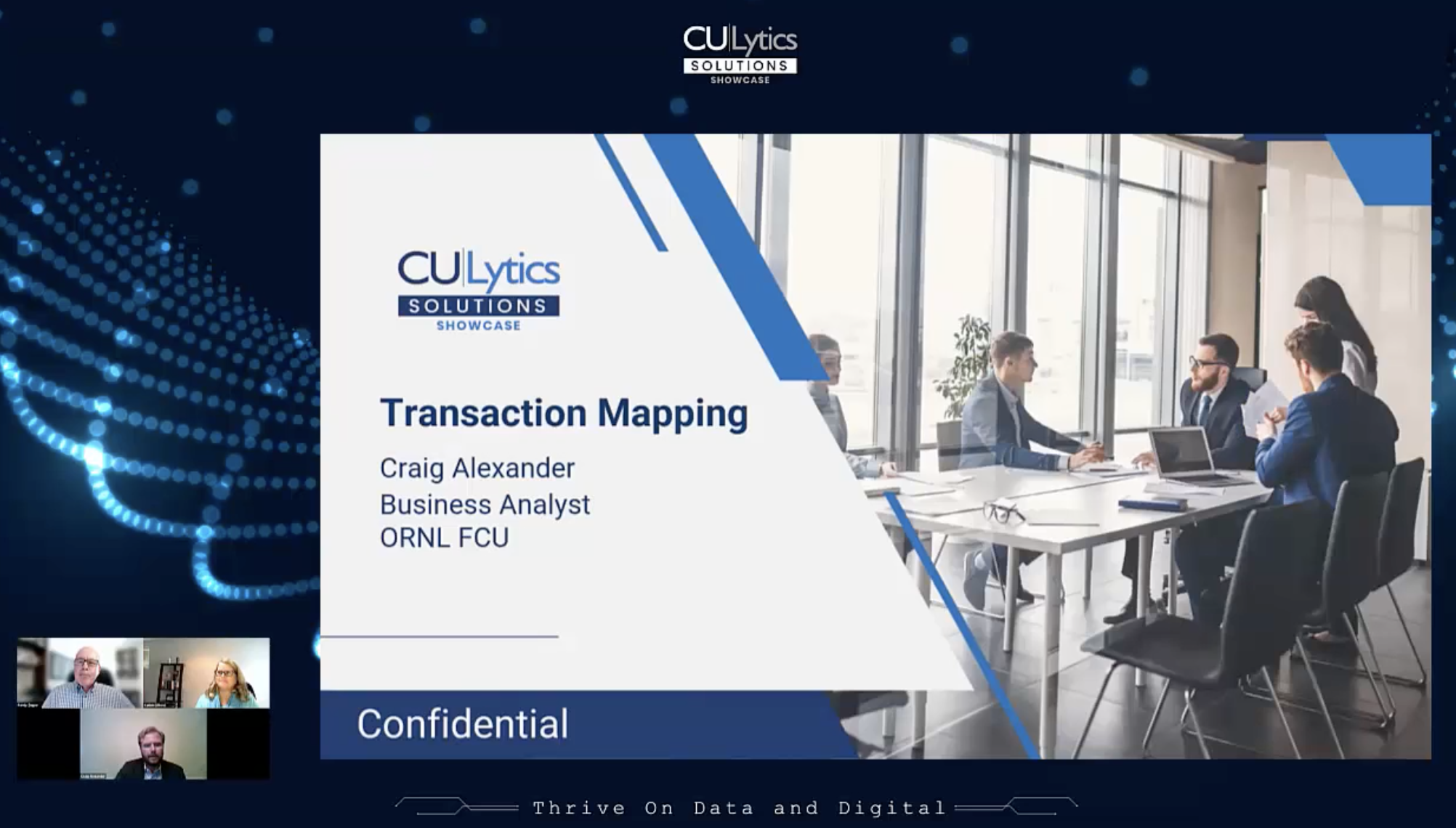 ORNL FCU's experience with Arkalytics was featured in CULytics' 2021 Data Solutions Showcase virtual event. You can view the full case study webinar here.
Does transaction analysis sound like one of the many data tools that could be valuable for your organization? Connect with a data expert to learn what you could do with Arkalytics!
Check out the full written case study on ORNL FCU's use of Arkalytics here