Tableau Cloud Migration - Is it worth it?
by Hannah Barrett, on January 10, 2023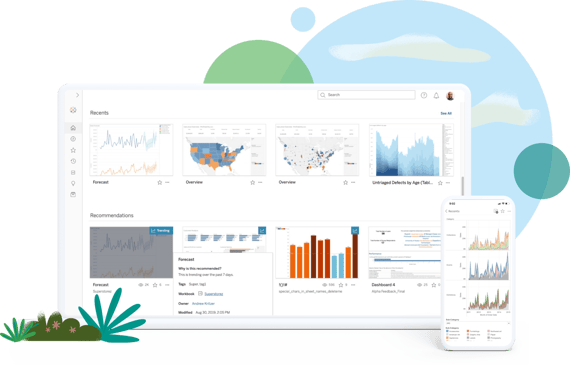 Learn more about migrating to Tableau Cloud here:
What is Tableau Cloud?
Tableau Cloud is a fully managed platform to host your Tableau content workload. A fully-hosted, cloud-based, enterprise-grade solution on the world's #1 analytics platform. Tableau Cloud is a fast, flexible, easy-to-use self-service platform designed to fit your enterprise architecture. It streamlines the power of data to make people faster and more confident business decision-makers. Tableau Cloud is a substitute for Tableau Server with fewer maintenance, upgrade, and setup requirements.
54% of respondents who took part in a recent McKinsey survey said they expect to shift at least half of their workloads to the public cloud over the next five years. Let's break it down to understand why 70% of new Tableau customers are choosing Tableau Cloud over on-premise and hybrid Tableau Server deployments.
Do you struggle with Tableau Server?
Are you experiencing any of the following problems with Tableau Server? If so, perhaps a migration to Tableau Cloud will be beneficial.
Maintaining internal IT system infrastructure

Infrastructure hosting costs

Managing server upgrades and patches

The stability of your system is dependent on your success with the items above

The need for a dedicated Tableau Server administrator (or taking an employee away from their primary job duties)
Downtime for upgrades, scheduled maintenance, or unexpected issues.


Case Study - Southwest Airlines
Outdated technology can be detrimental to a business. Southwest Airlines was a small airline in 1970 which grew to be one of the top 5 largest airlines in the United States, flying 4,000 flights a day in 2022.

However, their IT infrastructure investments did not grow as rapidly as the airline. This made them unprepared for the growing network of pilots, crews, planes, and passengers to manage. Their CEO, Bob Jordan, admitted to their outdated technology (especially the crew scheduling system) being a great contributor to the meltdown in December of 2022 when 2,900 flights were canceled during a severe storm, disrupting holiday travel plans for thousands of people and stranding many. Jordan remarked that they clearly need to double down on existing plans they have to upgrade systems, something Southwest employees have been requesting for years.

If Southwest had upgraded its IT infrastructure in line with its growth, the catastrophe may have been avoided altogether. This is why it's so important for businesses to upgrade their systems, and stay current with their infrastructure, including the migration to the cloud.
Should you migrate to Tableau Cloud?
The growth of your business also means growth in the amount of data that you are going to need to manage. Don't let a lack of proper data infrastructure hold back your progress. In addition, a lack of cross-organization data sharing can lead to misinformed decision-making. Cloud computing resolves this by facilitating faster, easier, and more extensive data sharing between departments and offices within your business.
What are the benefits of Tableau Cloud?
Drive faster, smarter decisions
Quickly and easily discover the "why" behind AI-driven insights to enable deeper exploration of what your data is telling you.


Integrate data insights where you work


Access data-driven insights from anywhere, and bring your data into every business conversation. Using embedded analytics,

seamlessly embed data and insights into all of your products and applications.


Scale fast with easy and secure analytics
Focus on creating value within your business instead of managing software upgrades, scaling hardware capacity, or configuring servers


Deliver trust and confidence in the data
Centralized governance, visibility, and control ensure that your data is safe and clean, with automated authentication and permissions management.


Bring all facets of your company together
Get everyone on the same page by collecting and streamlining data from all departments, all in one place.


Limited-to-zero downtime & system reliability
Unlike Tableau Server, Tableau Cloud has limited-to-zero downtime for upgrades, scheduled maintenance, or unexpected issues.
This link shows all Tableau Public server outages or incidents. As you will see, there are very few, as Tableau is extremely dependable and has great uptime.
What's the hold-up?
So why isn't everyone immediately jumping to the cloud? The IT landscape for some companies can be particularly varied, with modern systems running alongside 40-year-old applications. This explains the hesitance, as cloud migration can be a complex process for a lot of companies because of this.
This is why partnering with a Tableau expert like Arkatechture is an attractive option. Upgrades, preventative maintenance, and handling things reactively like server crashes can be extremely time-consuming for a company's IT team. They require specific expertise to handle properly. Partnering with a Tableau expert means:
Savings on overall costs when it's not a core competency of the business

Offloading the actual need to manage something so you can focus on your client
So... is it worth it? If you're still not sure, talk with one of our Tableau consultants to learn more!
Our Tableau experts will help you reduce overhead costs and upgrade your Tableau performance, scalability, & uptime without any of the hassles. One less headache for your IT team and/or analysts to manage!
4 Steps to Migrate to Tableau Cloud with Arkatechture
1. Discovery
Talk with one of our Tableau Experts to see if a Tableau Cloud migration is a good fit for your business. Get pricing & quotes.
2. Evaluation
We'll analyze your Tableau Server environment, data sources, & dashboards to help plan the migration project.
3. Planning
Work with one of our certified Tableau Administrators for peace of mind. We'll plan & manage your migration from start to finish.
4. Migration
In addition to migrating your Tableau content, we'll optimize your role-based access controls and configure any additional custom settings you need.
Check out our Tableau Server Migration One-Pager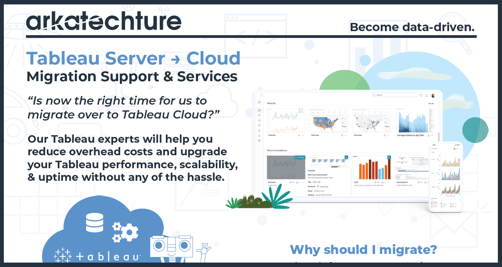 Additional References:
https://www.mckinsey.com/capabilities/mckinsey-digital/our-insights/three-big-moves-that-can-decide-a-financial-institutions-future-in-the-cloud