Why Arkalytics was the perfect choice for ORNL FCU
by Devin Cook, on April 14, 2021
ORNL Federal Credit Union is located in Oak Ridge, Tennessee and has been committed to helping their members realize a healthy relationship with their money since they were established in 1948.
ORNL FCU's strategic data analytics goals necessitated an expansion greater than what their existing data team could handle. The data management solution they required would take years to build alone; time they could not afford. They wanted a cloud-hosted solution that would scale with their increasing data volumes and wanted to avoid buying and maintaining physical servers.
With those requirements in mind, they began their search for a partner and solution that would support their objectives.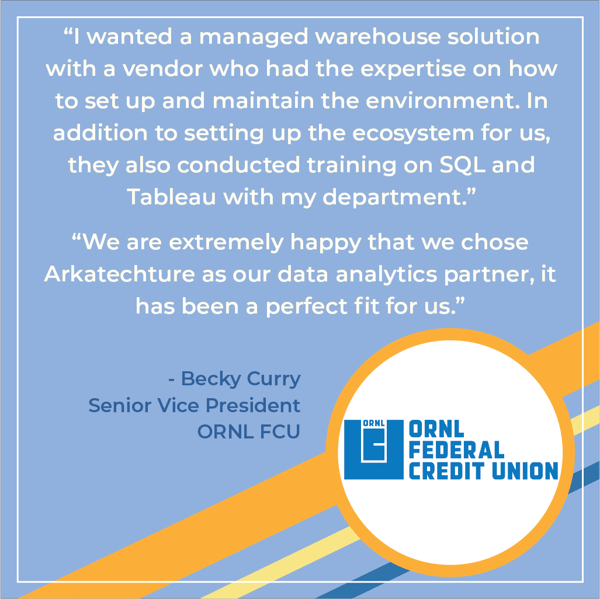 The credit union recently began leveraging Amazon Web Services (AWS) for workspaces, so Becky contacted their account manager to see if they had any partners that specialized in data management and analytics.
AWS recommended that ORNL FCU reach out to Arkatechture, a trusted AWS partner that works with credit unions to solve similar challenges. As they learned more about Arkatechture's ability to follow through on their objectives, they also learned that the company had experience with their source systems and file structures. Contracts were quickly drafted up and signed in order to get the implementation process started for Arkalytics.
In addition to setting up the ecosystem, Arkatechture conducted training sessions for Structured Query Language (SQL) and Tableau's data visualization software to promote adoption amongst their users.
Learn more about how ORNL FCU leverages trusted data analytics to drive business outcomes here: