One Nevada Credit Union & iQ Credit Union Join Arkatechture CUSO Partnership
by Hannah Barrett, on April 27, 2023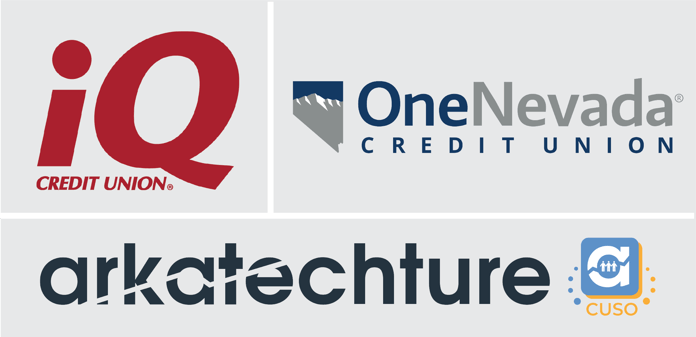 One Nevada Credit Union & iQ Credit Union are joining in Arkatechture's CUSO movement to share collective credit union knowledge, address common issues, and more to enhance member value.
Portland, ME (April 27th, 2023): Arkatechture CUSO, a technology company dedicated to empowering organizations with a better understanding of their business through data, has gained two new credit union investors. In 2022, Arkatechture formed a Credit Union Service Organization with partners ORNL Federal Credit Union and Tucson Federal Credit Union. Now, One Nevada Credit Union and iQ Credit Union have joined in on the CUSO partnership.
One Nevada Credit Union first learned of Arkatechture after doing a Google search for data analytics partners for credit unions.
We changed up the routine vendor vetting process because we needed an agile partner, and when we found Arkatechture, we could immediately feel a difference in their commitment and culture. We immediately noticed Arkatechture's cultural alignment fit closely with ours and resembled the Credit Union mantra of 'people helping people.' Arkatechture's framework of self-service dashboards gave us the quickest ability to integrate data into our culture. Their workbench applications were intuitive and appealed to our credit union. Arkatechture was excited and passionate about working with our Credit Union. That excitement and passion showed they were the right long-term fit." commented Steve O'Donnell, Executive VP & CFO of ONCU.
This alignment of mission and values encouraged the ONCU team to become part of the CUSO movement with Arkatechture. They believe the partnership will help their credit union and members by creating more awareness for other credit unions to be a part of Arkatechture, sharing collective knowledge, and addressing common issues to enhance member value.
The team at iQ Credit Union first heard of Arkatechture through CULytics.
We looked at the price / time to build vs. buy from both an implementation and from a maintenance standpoint. The Arkalytics product accelerated our data journey by years. The team we met with was excited about the technology and they had a fantastic vision for the future and scalability of the software." commented Chief Technology Officer Jordan Lehrman. The iQ Credit Union team felt that if they were willing to trust and partner with Arkatechture for such a critical strategic objective, then it made sense for them to also move forward with an investment in the CUSO. They entered the partnership just a few months before they began implementation of Arkalytics.
As a customer and investor, iQ Credit Union will continue to contribute to the roadmap and vision for the Arkalytics business intelligence platform. The partnership will also allow them to make the right decisions for their credit union to simplify banking for their staff and members. One of their goals for the partnership moving forward is to build out value-add dashboards and views for all Arkalytics credit unions Additionally, work continues on a strong API layer based on the universal data model that they can use in their software and with their partners.
We are very excited to help even more credit unions do good within their communities – and we believe data is going to be a big part of that - having valued investors like ONCU and iQ CU will allow us to bring Arkalytics to the market much quicker and more strategically, helping more credit unions with our technology" commented Arkatechture Founder & CEO Jamie Jackson.