Arkatechture Named 'New CUSO of the Year'
by Hannah Barrett, on March 29, 2023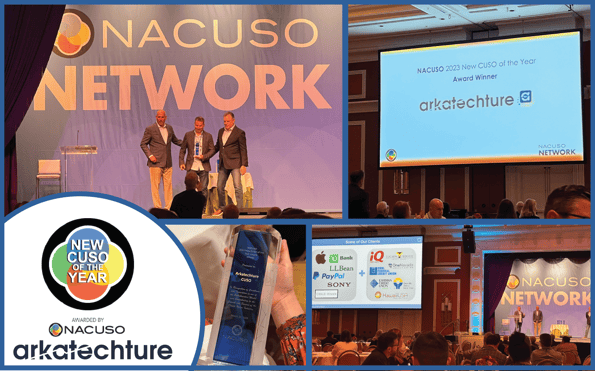 '2023 New CUSO of The Year' Goes to... Arkatechture!
We are excited to announce that Arkatechture has been named 'New CUSO of The Year' at the NACUSO Network event, which was the most attended in its history. NACUSO selects CUSOs that have done an outstanding job of adding value to credit union members, creating an innovative solution to a problem, reducing operational costs, and increasing income.
The fact that we have been able to bring a drastic amount of positive change to an industry that is excited to help their communities tells us that we are achieving our goal. We are extremely optimistic about what our CUSO will continue to bring to the table for credit unions, their members, and the credit union mission as a whole.
Congratulations to all of our fellow award winners!
How Arkatechture Began
Arkatechture was established in Portland, Maine in 2012, and started off as a small industry-agnostic data analytics company. We discovered the alignment between our core values and the mission-driven values of credit unions when we worked with our first credit union client, St. Mary's Bank. The Arkatechture team was inspired by the credit union's mission to give back to their members and communities.
Why Credit Unions?
On their KPI dashboard... all it had was their volunteerism. And again I started shaking my head like, wait a minute, that's your corporate KPI dashboard? And that's when it started to click for me, like, oh my gosh, they actually care. These aren't nonprofits on paper, these are nonprofits that are actually helping their community, and we're a very mission-oriented organization as well."

- Jamie Jackson, Founder & CEO of Arkatechture
The newfound passion for the credit union mission sparked the creation of Arkalytics, our fully-hosted data management and analytics platform designed just for credit unions. The Arkatechture team started off by asking "How do we advance data maturity for a credit union in a faster, cheaper, and better way?" As a result, the team developed a credit union-specific data model along with 20+ dashboards and reports to tackle day-to-day business questions for credit unions.
Today, the CUSO serves credit unions from Maine to Hawaii and everywhere in between.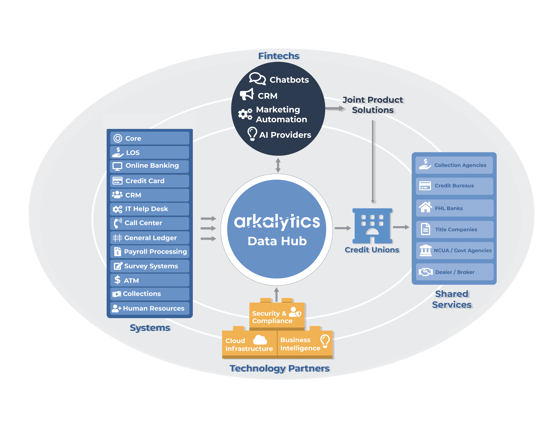 How Arkatechture Became a CUSO
Credit union after credit union joined in on implementing Arkalytics, becoming a part of the 100% implementation success rate that we have upheld. The Arkatechture team learned of Credit Union Service Organizations and began looking into the option of becoming one.
With some data-savvy credit union partners, Arkatechture became a CUSO. One step further in our mission to help credit unions better serve their members and communities.
People (credit unions) just need a partner. They need someone that they can rely on, who they can trust, and call when they're in a pinch...The credit unions were pushing us in the direction...like 'you have something here that the credit unions need'"

- Jamie Jackson, Founder & CEO of Arkatechture
Want to learn more about Arkatechture's partnerships with credit unions? Check out some of our recent press releases:
Eastman Credit Union Partners with Arkatechture
Credit Union of America Partners with Arkatechture
Valley Strong Credit Union Partners with Arkatechture
Greenville Federal Credit Union Partners with Arkatechture