The Top 6 Reasons to Invest in Your Data
by Devin Cook, on December 1, 2020
Do you experience frustrations getting answers out of your data?
If you quietly nodded your head or maybe even rolled your eyes at such a question, well, you're not alone.
Before going to your boss to ask for a blank check, we have to start with the "why".
Why should we invest in our data analytics? (and more specifically in collecting, organizing and analyzing our sales, customer, profitability, or any other types of data from transactional database systems used on a day-to-day basis)

Besides the clear benefits of eliminating pointless arguments in meetings over which numbers are 'the accurate ones' and reclaiming hundreds of hours of analysts' time back, a potential investment into your data should check one or multiple boxes:
Results in cost savings through automation & operational efficiencies
Contributes to overall revenue growth through better targeted product & service offerings to new and existing customers
Allows for better profit analysis that results in higher margins
An investment into your data can provide a lucrative return in the long term. It helps keep your business competitive today and agile to changing market conditions in the future.

Let's take a look at the top 6 ways that a modern data platform such as Arkalytics (currently offered to financial institutions and available for others) can give your business an edge.
1. Build your Single Source of Truth
Since the earliest forms of data warehouses, data marts, data cubes, etc. we've talked about "building your single source of truth". Through modern data management practices, we can now leverage data lakes to capture, organize, and analyze more data than ever before.
Extract and load raw data from your source systems without sacrificing tables, columns, or fields in their native format as they exist in the source. From there, the data is ingested into the new data platform.
That data is then blended together into one conformed data set for business intelligence and analytics consumption to create your "360 degree view" of your business. This also eliminates data silos to better understand full customer & product lifecycles.
2. Clean Your Data for Confident Decisioning
Before using your data to make important decisions, you have to build trust in your data source. With existing business logic, it's possible to program in "data quality rules" that can run on a pre-determined frequency to help you check and enforce critical rules important to your business.
For example, "commercial loans should make up no more than 15% of our loan portfolio". How would you enforce this unless you're manually checking this important statistic?
With programmed data quality rules, we can create and set alerts at various thresholds to help you enforce this and other types of business requirements using your new analytical database system.
Other data quality defects can be difficult to detect and remedy without accountability. Once the data quality rules are programmed, it's easy to visualize the data to determine if any items are in an "error" or "warning" status.
3. Enable Self-Service Data Requests for Your Employees
Self-service business intelligence simplifies, automates and streamlines an employees ability to carry out their duties. Your employees can then access the trusted data source in order to make informed decisions in their daily roles that ultimately drive measurable success.
Delivering timely information to key stakeholders is a vital part of carrying out tactical business operations. With proper permissions in place, each employee is given a focused view of the data & information that is significant for their role. It also allows employees to ask questions of the data to provide recommendations and analysis to management and executives for review.
4. Automate Routine Daily & Monthly Reports
How often do you receive a report days, weeks passed when the information would have been relevant?
Automating routine or manual reports streamlines the timeliness and delivery of key performance indicators that impact decision makers. This typically provides a secondary benefit of freeing up staff to focus on more value added activities instead of manual processes.
Having your reports automated also eliminates the inevitable errors that can come from creating reports manually.
5. Capture Historical Data to Model Predictive Analytics
You can collect data over time to conduct both predictive and historical data analysis. Every organization's data journey begins with collecting, organizing and cleaning your data - but many times, the ultimate goal is to achieve descriptive, predictive and ultimately, prescriptive analytics.
Having a good base of historical data captures changes over time that are important for identifying seasonality trends, customer behavior patterns, and changes in sales velocity.
6. Leverage Pooled Data Analytics
Some decisions require a larger volume of data. Immense amounts of underlying data may be necessary in order for the answers to your business questions to be accurate.
Your business can join forces with others in your industry to amass a treasure trove of data through the process of data pooling. Data pooling anonymizes and enhances the quality of your data to strengthen your statistical analysis capabilities.
Want to see how Arkatechture can help your
business become more data-driven?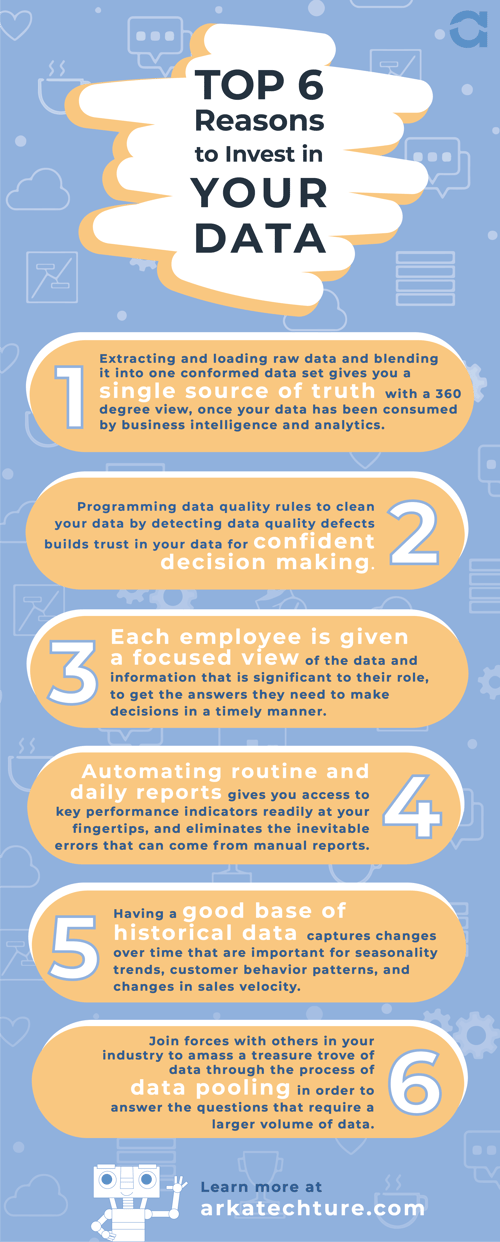 Additional benefits of investing in your data:
Streamlining business analysis processes
Analyzing and enhancing customer experiences
Helps you identify traction to focus your efforts
Identify emerging market trends & seasonality
Monitor changes in customer or product attrition
Create data-driven alerts based on business logic
Improve internal operations through automation
Manage risk tolerance with data-driven thresholds
Precision targeting, marketing, and sales focus for campaigns