$280 Billion: The Cost for Financial Services to Forgo Technology
by Kayle Simpson, on June 28, 2016
In a recent study by Cisco called the "Roadmap to Digital Value in the Retail Banking Industry," researchers found that financial institutions, such as banks and credit unions, who don't adapt to today's digital technologies will cost them approximately 70% of the potential $400 billion in revenue projected for the industry over the next three years. Why? Because mobile, tech-savvy fintech startups are disrupting credit unions and banks by being more accessible, digitally.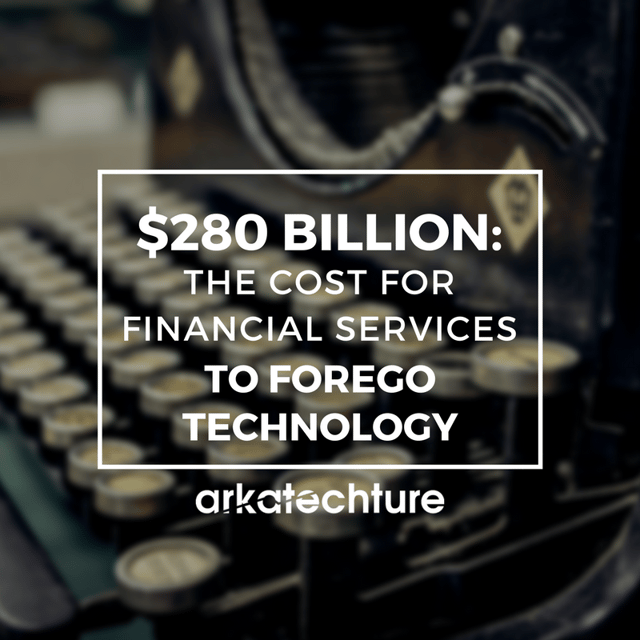 The same study also found that while 33% of financial services say that digital disruption is a board-level concern and 41% say digital disruption increases their risk of being put out of business, only 27% of financial services say they're actively doing anything about it. The top concern? Cybersecurity.
Regarding cybersecurity, Cisco ran another study, "Cybersecurity as a Growth Advantage" in which they found that after surveying over 1,000 senior finance and business executives, 71% agreed that cybersecurity risks and threats hinder digital innovation in their organizations.
So what's a financial services company to do? In one hand, you are actively losing business by not embracing technology, but, in the other hand, there are serious risks involved with adopting digital capabilities.
The answer: work with a tech consulting company with a proven track record in financial services that works quickly and securely. At Arkatechture, we specialize in optimizing the digital capabilities in the financial services industry. Need proof? Check out our case study on our data system overhaul for Direct Capital, and on our core system conversion assistance for St. Mary's Bank.

Ready to bring your financial services company to the 21st century? Let us help!