Study Shows Top Credit Unions Are Tech Savvy
by Kayle Simpson, on June 7, 2016
A new study by financial product comparison site MagnifyMoney shows that credit unions that offer fewer digital services and use antiquated tech are losing assets, while those who've embraced the digital age are growing much more quickly.
The study uses the December 2015 Consolidated Report of Condition & Income submitted by all credit unions to their regulator, the NCUA, to measure credit unions' tech savviness on a scale of 0 to 100. Based on this, it was determined that credit unions with a score of 75 or higher grew their assets by 3.85% over a 6 month period, compared to .23% for a score between 25 and 50. Going even lower, credit unions with a digital capability score of 25 or lower saw their assets shrink by 1.12% - yikes!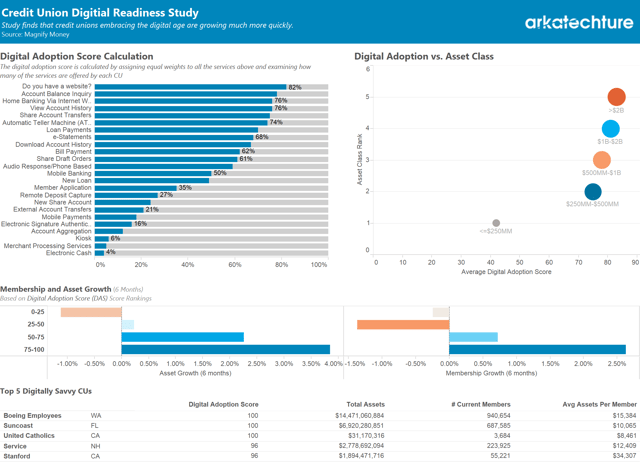 One of our talented Data Visualization Analysts, Katie Paige, turned the data from this study into an interactive data viz that you can view here!
The scores were calculated based on whether credit unions offered services like online banking, ATMs, mobile banking, digital applications, e-statements, and more. For a full list of criteria, you can check out the study here. The top five most tech savvy credit unions, getting a digital capability score of 96 or higher, are among the most successful - including New Hampshire-based Service Credit Union. The study also found that while the large credit unions are investing in digital technology, and being rewarded handsomely for it, it's a risk for smaller credit unions, who need to find cost-effective ways to become more digital.
If your credit union is interested in upgrading technology- we're just the company for the job! We specialize in working with financial institutions, including credit unions. Read more about our system overhaul for financial company Direct Capital here, or set up a data consultation here!