A Women's Perspective of Working in the Data Industry
by Hannah Barrett, on December 30, 2020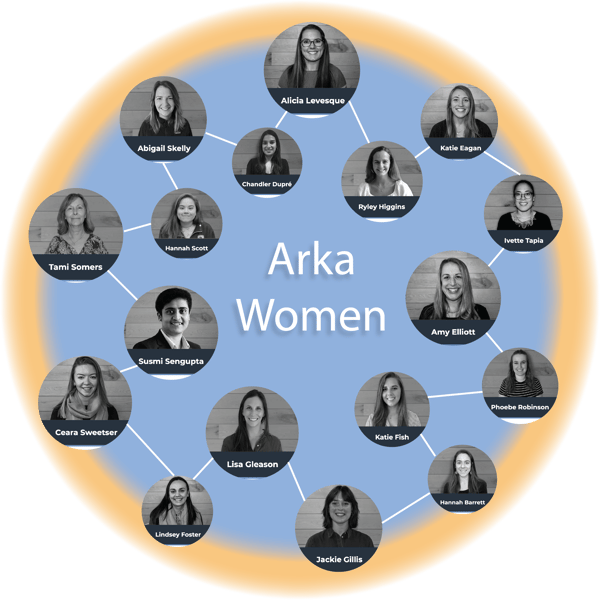 In 2020, women are still sadly underrepresented in computer science (25% of overall workforce) and software engineering-related jobs (14% of overall workforce). The largest tech companies on the planet still only have a combined workforce of about 34.4% women.
At Arkatechture, we value diversity in the workplace. Having a diversity of perspectives and opinions is vital to the enrichment and success of a technology company, and any business for that matter. We're so excited to announce that we are now very close to a 50/50 split of men and women here at Arkatechture. Let's take a look at the perspectives of some of our skilled female professionals, and what they have experienced as women in the field of data and technology.
A few words from our female Arkabots
Alicia Levesque, a Data Visualization Analyst at Arkatechture is excited at how much she has witnessed the percentage of women grow over the course of her 2 years at Arkatechture. "It's very motivating and inspiring to see so many women as part of leadership here (Katie, Susmi, Amy, Ceara, Lindsey) as well as in more technical roles (Ivette, Jackie, Ryley). Women here are given just as much of an opportunity to grow and lead, and that is super kick a**!"
"It's very motivating and inspiring to see so many women as part of leadership here...Women here are given just as much of an opportunity to grow and lead."
Ryley Higgins, a Junior Software Engineer at Arkatechture, recently graduated from Syracuse with a degree in computer science. She remarked on the fact that the majority of her classmates and professors were male "even though everyone warns you, I think joining that major or 'joining the tech world' in general at first is kind of shocking in that way and can be intimidating. The disparity in my classes was obvious!" That being said, Ryley added that she did have a lot of great male classmates that encouraged her and depended on her for group work, but that she was also talked-over by some, and felt disregarded.
"There are more and more women and diversity in the field to look up to every day"

One fellow Arkabot Ryley looks up to especially is Susmi Sengupta, Arkatechture's Chief Information Officer, "One of the biggest reasons I was (and still am) so excited about Arkatechture is Susmi. She is a rare role model with a ton of industry knowledge, and I know she is rooting for me to learn and progress. I have so much to learn from her. And since joining Arkatechture my engineering coworkers have supported me so much, they have this inherent trust in the work I do, which, as a result, makes me take ownership and pride in what I do. I feel really lucky to have ended up here as my first full time professional role." Ryley believes that the issue of lacking diversity in the technology industry is "getting better all the time, we just have to keep working at it."
Ivette Tapia, a Data Scientist at Arkatechture has had similar feelings of standing out. "It is still a strange experience to be in client engagements in which all the technical team or technical executives are male. It makes me wonder what the process is that led me to being the only woman there. Also, most senior leaders and executives you interact with are male."
"The effect is you stand out...Sometimes it feels like a responsibility to represent and show 'women' can do this work too."
"I think it goes all the way back to college. If you studied a technical degree, you probably already were in the minority." Ivette expanded to say that she has observed that men are still more readily expected to be in more technical roles, while women are expected to be in softer areas of a technology business, which is really limiting on the perspectives that build the systems and solutions that the company delivers. "Overtime, I have learned the immense value of friends/mentors that not only will give you advice, but vouch and advocate for you."
Amy Elliot, a Senior Consultant of Business Intelligence at Arkatechture, was excited to share how awesome her fellow female 'Arkabots' are, and touch on the importance of diversity. "When you're in an environment like this, it is surprising to step back and realize it isn't the norm."
"The women in this company have been so important in shaping every facet of our business from the product, to the culture."
"Just like with any characteristic (experience, personal background, gender, ethnicity) variety is key as different perspectives keep businesses nimble and expanding. From what we've found, women who get into tech are all-stars. We see fewer female resumes, but the women that we have hired have risen quickly and really transformed our business."
Amy went on to highlight a couple of her female coworkers who she has seen as being particularly influential at Arkatechture "Susmi Sengupta is such a superhero. She saw an opportunity and was the absolute driving force to making Arkalytics happen. She has the power to be so high level and strategic, but still jump into the weeds without even a thought, and de-code a problem (or solution) faster than anyone! And Katie Eagan (The Chief Operations Officer) is the glue that holds the company together. She sees all of the cracks and fills them without anyone even realizing they were there."
Here at Arkatechture, we feel so lucky to have so many skilled women working to make us the best we can be. It's really exciting to see this shift of diversity continue to spread, and we are proud to be a part of setting this standard for the data industry, as well as other industries.