From Sustainable to Regenerative - Small Sacrifices for Big Impact
by Hannah Barrett, on January 28, 2021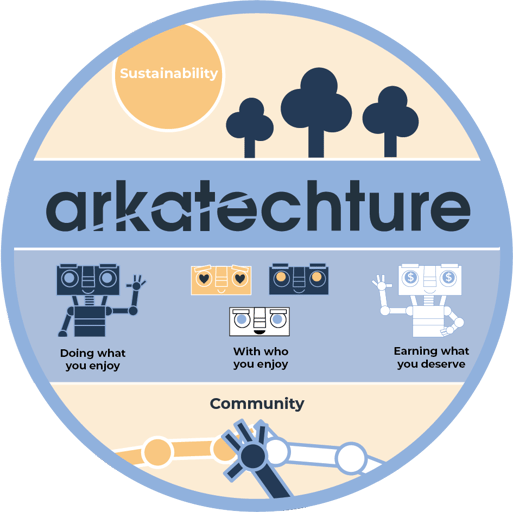 Sustainability in the Workplace
Being a sustainable company means having very little negative impact on the earth's biosphere. To us, being sustainable also means taking good care of our employees by doing what we enjoy, with who we enjoy, earning what we deserve, and giving back to the community.
Efficiency in your operations and causing less harm to the environment are great goals for your business to start with. It's a goal all businesses and people should strive for... but we can do more than just being sustainable.
At Arkatechture, we have made sustainability one of our core company principles, but we are aiming to go steps further, and continually make progress by contributing to the planet in a variety of ways. Sacrificing even the smallest of conveniences can have such a big impact. There are so many different facets of your business and day-to-day life where changes can be made.
Moving from Sustainable to Regenerative
How can we give more to the community and environment than we take?
How can we become more regenerative in our business and personal practices?
Keeping these questions in mind is imperative for the longevity of your business, the planet, and your well-being. Businesses hold so much power to make a difference, and set the standard for other businesses, and the world. It's time to take this opportunity to make change, and take hold of the way of the future.
Need some ideas? These are some of the initiatives we have taken here at Arkatechture to give back to our employees, the community, and the planet.
How We Give Back & How YOU Can Give Back
100% of the meals we purchase as a company for outings and events are plant based. So what? Let's put that into perspective. For every 3 plant-based meals served to 40 employees, we save up to 40 animal lives, 825 pounds of CO2 gas emissions, 1,214 square feet of forest, 822 pounds of grain, and 44,530 gallons of water! Small sacrifices, big impact.


As a technology company, our ecological footprint is fairly low. We aren't manufacturing goods, we aren't harvesting any crops, but we are data geeks working to help businesses run more efficiently. As such, our office space is our biggest opportunity to practice efficiency and sustainability. We recycle and compost just about everything. Reusable cups, plates, and cutlery line our little kitchen cabinets and single-use plastics are avoided at all costs.


Once a year, Arkatechture donates $100 on behalf of every employee to their charity of choice and many even match this donation personally. Throughout the year, we support local organizations that our employees are involved in. We work with our employees to participate directly or to contribute donations towards events that they are passionate about.


We choose to partner with organizations and technology companies who also have roots in both environmental

and

social sustainability.




We offer elongated parental leave, because we recognize the high importance of family, and parenthood, and this is one of the many ways we feel that we can give back to our community.


We are working on becoming a certified B-corporation. To be certified as a B-corp means that you have met or exceeded certain standards of social and environmental performance, accountability and transparency.

We

source

all of our coffee

locally

from a B-corporation, and buy local whenever we can.

We source as many of our employee gifts from B-corporations as possible.


We continuously aim to be in the upper percentile of employee benefits when compared with other organizations.
What's Next?
As we continue to focus on shifting from a sustainable business to a regenerative one, we plan on tackling these tasks next:
1% For the Planet - We plan to give 1% of sales back to the planet through the 1% For the Planet organization.

We are aiming to start a scholarship fund.




A goal of ours is to have a 4-day work week.




We want to be an incubator for small, local, community-oriented businesses / startups because we believe that investing in your community is vital for its strength and the good of everyone within it.
What will you tackle next?
See more about our initiatives here