The Story of Arkalytics - Hear from the Credit Unions
by Hannah Barrett, on June 8, 2022
Years ago, Arkatechture developed a passion for the credit union mission after working with our first credit union customer. This inspired us to create Arkalytics, a business intelligence, dashboard, data and predictive analytics platform for credit unions. Our chance to contribute and help scale the impact credit unions can make on their members, communities, employees and the industry as a whole.
In this blog and the video below, we've asked credit unions how Arkatechture is helping them achieve their goals.
This is what they had to say:
How exactly does Arkatechture help credit unions?
To break it down into more specifics, we help credit unions from a technology perspective because Arkalytics works like a software-as-a-service (SaaS) platform and services solution to:
Unify their data across all their platforms, applications, and third party data sources into a single source of truth,
Empower them with business intelligence, dashboard, data and predictive capabilities executives and employees across all functions and levels within a credit union can leverage to improve credit union business performance, and
Enable them to rapidly innovate their digital member experience and in other key areas by adding new platforms, applications and third-party data to their single source of truth.
Arkalytics also empowers credit unions to generate ROI by generating data-driven insights that inform decisions on growing revenue, increasing margins, and reducing cost, and innovating the digital member experience.
This helps credit unions to deliver against their mission-based charter and significantly increasing the value they can generate for their members, employees, and communities.
How fast can we implement Arkalytics?
We're proud of the 100% success rate we have for implementing Arkalytics with all of the credit union customers we work with. Implementing Arkalytics typically takes 3-6 months based on how fast a customer wants to move and Arkalytics in place.
This includes having a solution everyone can count on to be a single source of truth, and operational, executive and financial dashboards they can use to gain insight and make data-driven decisions. Our partnership continues from here via the suite of services we provide to drive adoption and credit union goals for improving their business performance and member experience.
What it means to "enable" credit unions
Enabling credit unions means teaching them how to fish rather than fishing for them. We provide credit unions with everything necessary to drive self-sufficiency and adoption, in terms of being able to utilize the dashboards, as well as providing the capabilities to build their own dashboards through a sandbox we provide them.
In addition, we want to drive adoption across more functions and levels of the credit union. Here are some ways we do this:
Providing a library of ROI use cases that we keep building through all of our credit union relationships, and all of the dashboards we have built as a result of all of the clients we work with.
3 or 6 month use of a dedicated Data Analyst that can help them build dashboards, consult with them, and make sure they're truly optimizing their ability to utilize our solution, as well as achieve self-sufficiency and further adoption.
Training on all of the tools they will be using, such as dashboards, analytics, Tableau, training on our system, and even certification on our system. This way, they become well-versed and can then drive further adoption throughout the rest of the credit union.
Helping credit unions with technology and services, a 1+1=3 equation
The way we view ourselves is not just as a vendor providing a solution, we are also a partner. As a partner, we want to do everything possible to assess a credit union's readiness for implementing data analytics and help them become prepared to be successful with data analytics implementation.
Primarily, we aim to:
Enable credit unions to drive self-sufficiency in adoption, sometimes with an embedded resource to strengthen their data team with an experience Arkalytics analyst
Provide them with a dedicated Customer Success Manager (CSM) who works with them strategically to help make sure all their needs are met in terms of customer satisfaction, and also to conduct regular business reviews with them.
Welcome them to a private user community, which allows them to benefit from their peer credit unions through a sense of "coopetition"
Assess & prioritize their individual goals and concerns, and have a whole system of experts and resources in place to help them be successful at every stage of their data journey.
Drive ROI, organizational adoption and self-sufficiency they can sustain beyond their initial Arkalytics implementation.
How long does it take to see results?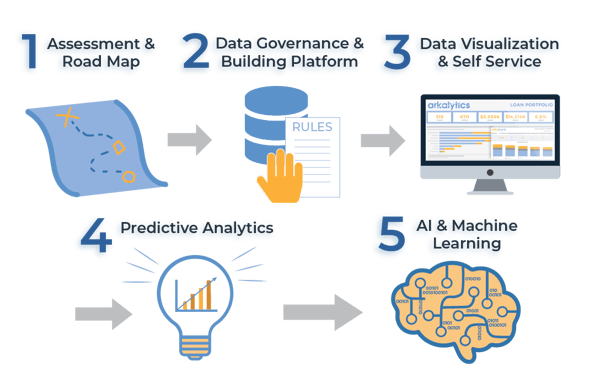 Implementation is typically 3-6 months, and then the work really begins and the partnership takes form. After implementation, the credit union has:
A reconciled solution that they can count on to be a single source of truth
A data quality rules engine to enforce business logic & rules
Operational, Executive, & Financial dashboards
The ability to create new dashboards as needed
All wrapped up in a SOC2 secured environment
After this stage, our goal is to advance them in terms of their data maturity. One way we do this is through quarterly business reviews with our Customer Success Managers. A data warehouse by itself doesn't necessarily create value, it's the users who mine it for insights and truth that really make it successful.
Typically, credit unions are looking to reduce the cost associated with bringing their data into reports that they can use throughout their organization. So it's all about report automation. The next stage is typically helping them with strategic dashboards, enabling them to really benefit from making data-driven insights that will help grow their business, grow their margins, as well as reduce their costs. Our solution only requires a user to have a browser to be able to access all of our dashboards.
Our goal is to drive more adoption across more functions of the credit union, as well as through more levels of management within the credit union. The idea is that more and more people will be able to get data-driven insights in their corner of the business, so your credit union will have an army of people helping to improve member experience, as well as the performance of the business.
Next, we have the predictive analytics solution that uses artificial intelligence and machine learning to identify trends and patterns of our best-performing credit unions that other credit unions can benefit from. Credit unions can use this information to improve in the areas they need to; that's the benefit of us working with credit unions not only one on one but also as a community, to be able to pool data and identify patterns and trends that can benefit all of our credit union clients.
What services does Arkatechture provide?
Pre-implementation, we provide an assessment of your readiness for data analytics which enables us to determine where your credit union lies from a cultural standpoint, a people's standpoint, governance, technology, data security, etcetera. Based on that assessment, we identify gaps that we can help you fill, which allow us to customize the process of working together on an implementation.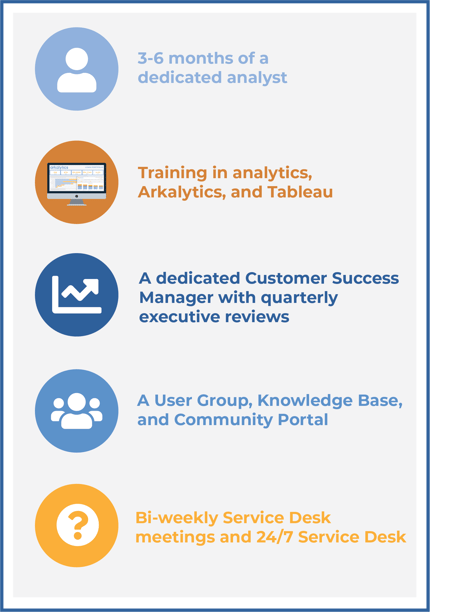 The implementation process includes:
3-6 months of a dedicated analyst
Training in Arkalytics and Analytics
A dedicated Customer Success Manager
Quarterly executive business reviews with a focus on ROI
A user group to enable learning
A community portal, and access to a knowledge base
Bi-weekly service desk meetings, and a 24/7 help/service desk to make sure we are proactive about addressing and solving any issues that may arise with managing your data
In addition, post-implementation a-la-carte services are available, such as:
Business advisory where we help ensure that KPI's and KRI's are as robust as possible.
Additional time with a Data Analyst-as-a-service
Helping analyze your dashboards and make operational changes accordingly
There are lots of ways we can help you pre, during, and post-implementation...we are here to support you in your credit union data journey!
What makes Arkatechture's solution stand out?
Not only are we differentiated technologically:
Having a cloud-based software-to-service solution
Capability to utilize our dashboards with just a browser,
Ability to use a data model that's extensible to meet all the needs you have today as well as in the future, providing the best possible future-proof solution today.
We are also differentiated by our view of ourselves as a partner. Every customer we work with, we make successful, which is why we have a 100% success rate on implementations.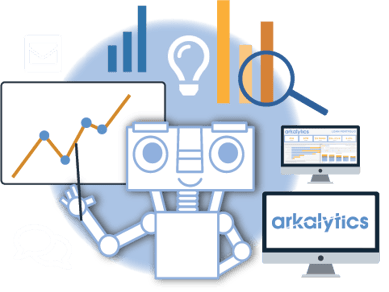 After we implement, our goal is to make credit unions as successful as possible at:
Utilizing our solution
Advancing data maturity
Advancing level of adoption
Continuing to bring innovation
Continuing to transfer learnings from the rest of our community
Transferring ROI best cases, dashboards, and in addition, continuing to build this pool of data that we can identify trends and patterns from so that 3 billion or 500 million dollar credit unions in asset size, can get the benefit of 40 billion dollars worth of assets.
And don't forget... We are a CUSO!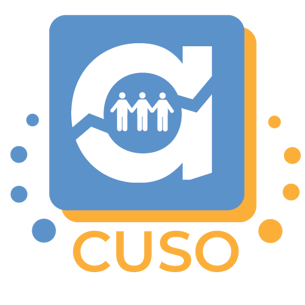 We are so passionate about helping credit unions that we partnered up with a couple of our data-savvy credit union clients to form a Credit Union Service Organization (CUSO).
We take pride in the fact that we can help organizations that are dedicated and focused on developing and growing their communities…that's what it's all about. We are really excited to help credit unions help their communities through data."
-Jamie Jackson, CEO & Founder of Arkatechture
Want to learn more about what Arkalytics can do for your credit union?