Arkabot Insider - Part Two
by Gage Benson, on October 13, 2020
As we come into the final stretch of 2020, it's safe to say that this year has been full of surprises and new beginnings.
Although we continue to work remotely from our cozy New England homes, Arkatechture employees are staying connected in fun and engaging ways.
Here are a few recent insider highlights as we say 'goodbye' to the heat of summer and 'hello' to shrinking daylight hours and cool, fall Maine evenings.
Staying Connected From Afar
After spending 6 months in quarantine, everyone at Arkatechture is settling into their new work from home groove.
Many employees have taken office equipment home to help make their work days more comfortable. Adjustable sit/stand desks, chairs, and extra monitors have found their way to new home offices spread throughout the greater Portland area.
Working from home has presented challenges including day care, wifi outages and even cabin fever, but we are doing everything we can to stay connected with our teams.
New Routines Light Up Our Morning
Every Monday morning, we host a casual virtual meeting for Arkabots to talk about their weekends while having a cup of coffee before they start their day.
On Wednesday, we have a virtual "Show and Tell" where one Arkabot presents/shares something of their choice.
Presentations have included everything from the art of throwing a curveball, how to tie fly fishing flies, trivia, cooking shows and even hosting a scavenger hunt for unique items around the house. Laughter and smiles lift our spirits to finish out the afternoon strong.
#babypics
To fill in the gaps on Tuesday and Thursday, we collected baby pictures from everyone. In our Slack channel, we post one photo per day and our arkabots take turns guessing whose photo it is before the big reveal at the end of the day.
Being the data geeks that we are, we recorded all of the guseses, tallied the results, and made an awesome Tableau data visualization that you can check out here!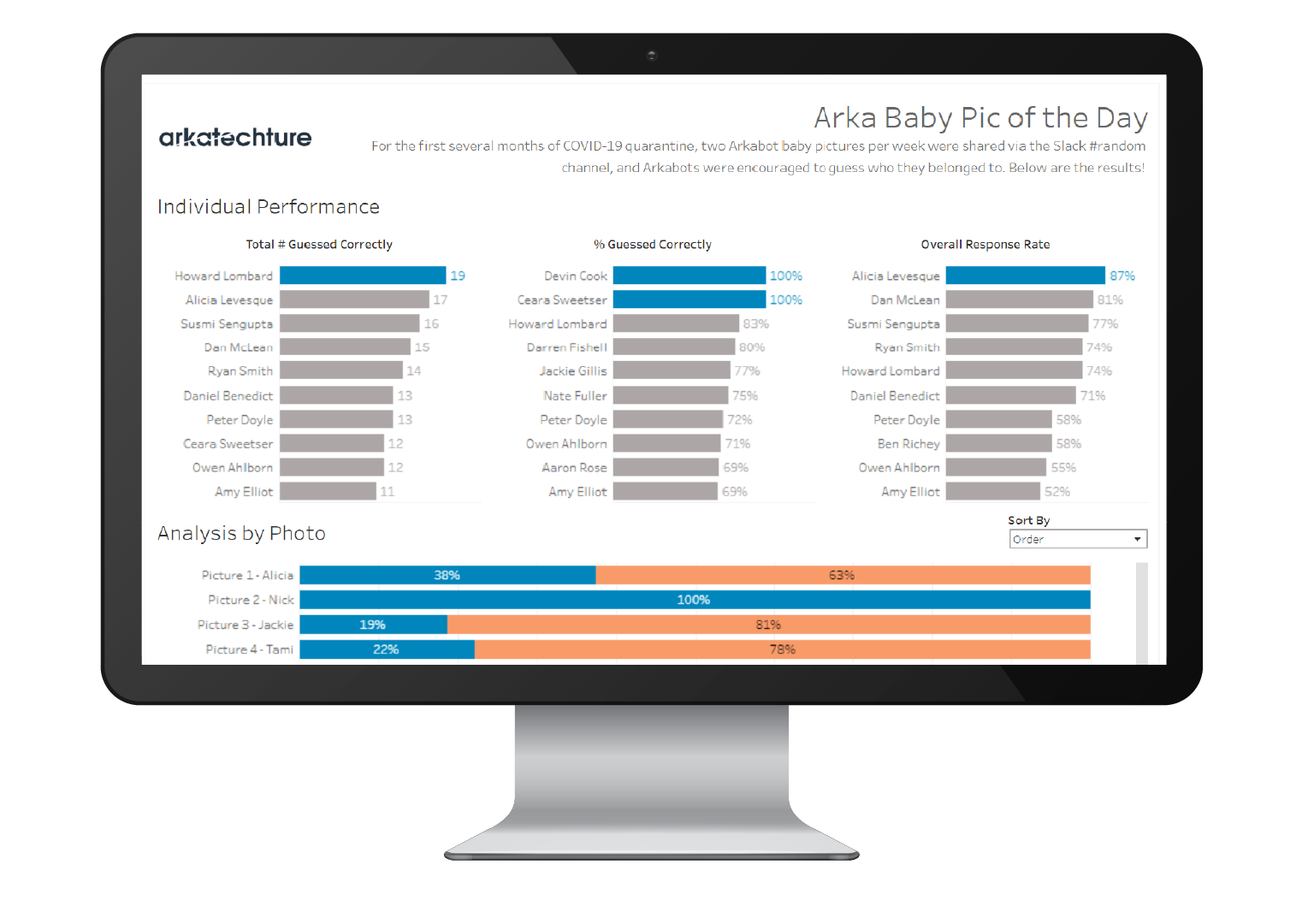 Arka Goes Golfing for Veterans
In one of the first outings since the outbreak, a few members of the team were able to get together for a day out on the green.
The Service Credit Union Impact Foundation hosted a charitable golf tournament raising $250,000 in support of the Robert Irvine Foundation - Chef Robert Irvine. Thank you for inviting us to this event and congratulations on reaching this milestone to support a noble cause.

To learn more about the foundation's mission & community projects, check out their website here: https://robertirvinefoundation.org/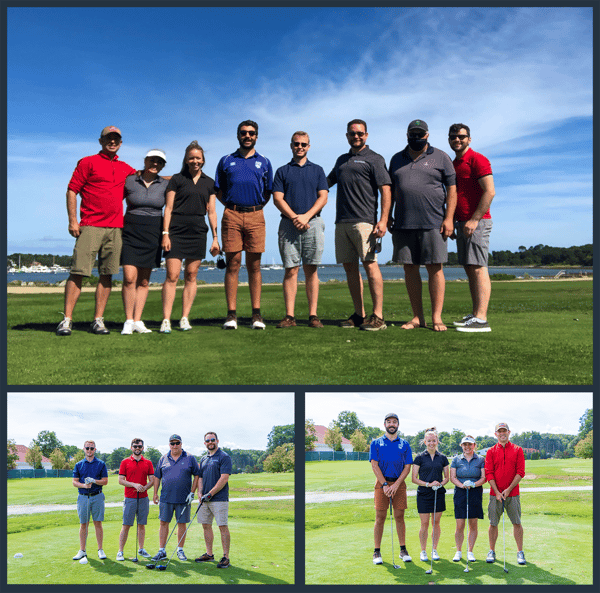 New Hires
With continued growth and success of the Arkatechture's products and services, comes new Arkabots to support our ops and delivery teams. On-boarding remotely has presented its own challenges but our HR team and new employees have been able to work together to make it as seamless as possible.
Lisa Gleason - Talent Sourcing Specialist
Terrence Jones - Software Engineer
Katie Fish - Jr. Data Analyst
Jon Taylor - Vice President of Sales
Abbie Skelly - Senior Project Manager
Promotions
Each and every Arkabot has the chance to explore different career paths and projects. When one of these employees takes the opportunity and thrives, we reward them through internal promotions, raises, and title changes to reflect their accomplishments.
Lindsey Foster - Jr. Data Scientist to Production Support Manager
Brandon Sowell - Jr. Data Visualization Analyst to Data Visualization Analyst
Darren Fishell - Data Visualization Analyst to Senior Consultant, Business Intelligence
Certifications
Our team continues to build their expertise across many of our platforms and technologies by gaining the knowledge and skills they need.
Jackie Gillis - Tableau Desktop Certified Associate
Daniel Benedict - Tableau Server Certified Associate
Arkaversaries
Here are some Arkabots that reached an annual milestone, congrats everyone!
Susmi Sengupta - 6 Years
Amy Elliot - 6 Years
Lindsey Foster - 2 Years
Aaron Rose - 2 Years
Gage Benson - 2 Years
Ben Richey - 4 Years
Ivette Tapia - 1 Year
Owen Ahlborn - 1 Year
Nate Fuller - 1 Year
Interested in working at Arkatechture? Check out our Company & Careers page to see the latest openings and see if you'd be a great fit too!