ACV Auctions' Partnership with Arkatechture
by Hannah Barrett, on April 27, 2022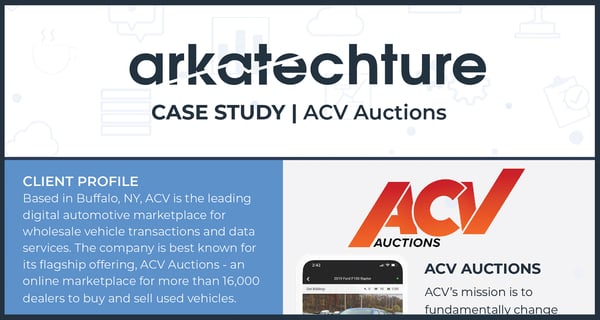 Introducing ACV Auctions
ACV Auctions is fundamentally changing the wholesale automotive industry with their dealer-to-dealer digital wholesale marketplace.
I had the pleasure of interviewing their team to learn more about their business and how they've partnered with Arkatechture. Here's what I learned.
What does ACV Auctions do?
Dealers nationwide buy and sell tens of thousands of vehicles each month on ACV's app. ACV provides unbiased vehicle information that is unmatched in its level of transparency, and comprehensive condition reports on fresh vehicles, right at the seller's lot. On ACV's app, dealers can filter to search for specific types of vehicles and even receive notifications when the vehicles they are looking for are available.
The app provides a market report to help auto dealers price their vehicles appropriately, and an action panel where dealers can see the statuses of all of the auctions they're watching, and their bids in one place. Payment, title-transfer, and delivery of the vehicles is all handled through the app.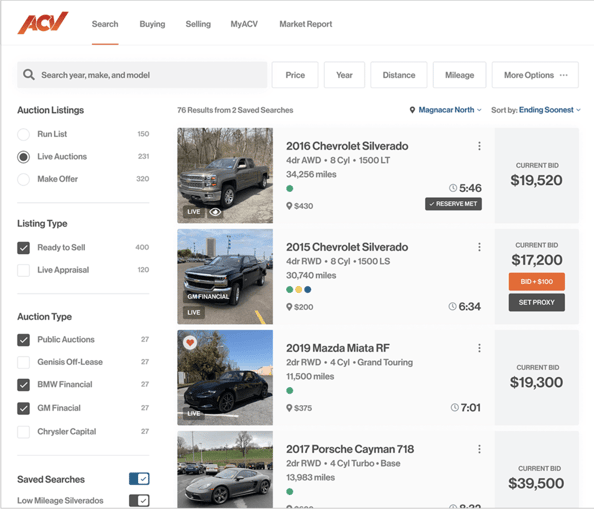 The Challenge
ACV Auctions was struggling to keep their data organized and consistent across the company. They needed help to ensure that all of the key performance indicators (KPI's) their team was working from were accurate, timely, and actionable. ACV first heard about Arkatechture when it was recommended by a Tableau Sales Rep.
After a careful analysis of multiple managed service providers, Arkatechture was the right choice for price and offering. One of the key differentiators they recognized versus an internal solution or maintaining internal certifications - was having the flexibility Arkatechture provided, along with existing expertise. This provided ACV with the agility to quickly solve their challenges without ramping up technical employees in a tight labor market.
The Solution & Results
They found the implementation process to be smooth and simple. With Arkatechture's fully-managed solution, ACV quickly saw the following results:
Reduced inbound questions and data requests
Reduced time to resolution
Confidence in their data for decision-making
Increased accessibility to reports & KPI dashboards
Reduced time & resources spent managing BI tools
Partnering with ACV Auctions to support them with their Tableau journey has been such a fun ride. From Day 1, they knew exactly what they were looking for in a partner and what responsibilities they wanted us to hold. They had ambitious growth projections and it's been tremendous to watch that come into fruition! We'll continue to be here to support them in their success." Jamie Jackson, Founder & CEO, Arkatechture
The professionalism and responsiveness of Arkatechture's team over the last couple of years, even when we have had instances when Tableau or other systems have gone down, they have been great in terms of responding and addressing issues and being flexible about if we go over our hours in a certain month, and just taking care of us rather than starting another scope of work (SOW). They just make sure we have what we need and are well supported rather than putting finances first. It's very much a customer-first approach." -John Coles, Director of Analytics, ACV Auctions