Arkatechture 2021 Year in Review
by Hannah Barrett, on January 10, 2022
We look back fondly on 2021. Excitement and optimism are two words that come to mind when thinking about the year ahead.
Arkatechture repeated as one of the Best Places to Work in Maine for the fourth year in a row. We were even fortunate enough to see each other in-person at a few gatherings to raise money for our community and bring us closer together after months of video calls.
With caution and safeguards in mind, we attended a few trade shows with our brand new booth and even piloted a 4-day work week model. The company (and amazing people that make it all happen) are continuing to grow and improve every day. The hunger to learn and deliver results drives us into a new year in 2022.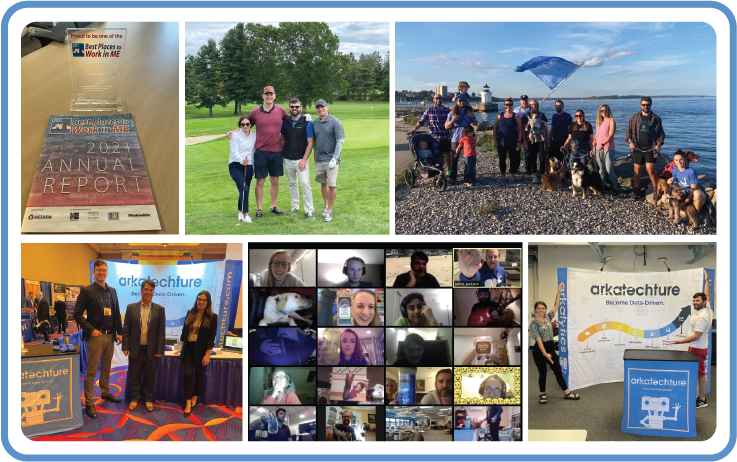 Reflecting on the previous year, Founder and CEO Jamie Jackson shared a few words with us:
Fast and intense. That's how I'd describe this past year. This company has evolved numerous times over the last 9 years, but right now it's the largest and most equipped it's ever been. I know we're still trying to figure out how to ensure our in person culture finds it's way through the hangouts / zooms / etc., but not once have we seen anyone waver on their commitment to moving us all forward together. I don't think I'd say I can ever see a period of Arkatechture's life being anywhere near static, but this past year has been the foundation for us to sharpen our focus and execute on the vision we've all made together over the last 9 years. Arkabots sharing pictures of their kids, pups or family members now means much more to ensure we keep getting to know each other in this virtual world. I hope there's a day very soon where the high fives and hugs can happen once more, but until then I can't imagine spending my workdays with any other folks than you all. Here's to the new year, new challenges and new beginnings!"
Lisa Gleason, our brilliant and cheery People Operations Manager made notes of how the talent has grown over the last year.
As a company we've had an amazing year continuing to learn how to thrive as a collaborative team while working remotely. We achieved huge success in hiring more amazing people as we grow, hurtling any challenges as a group and even kicking off our 4-day work week pilot program!"
Arkalytics 2021 by the numbers: Fostering and growing a community of data-driven credit unions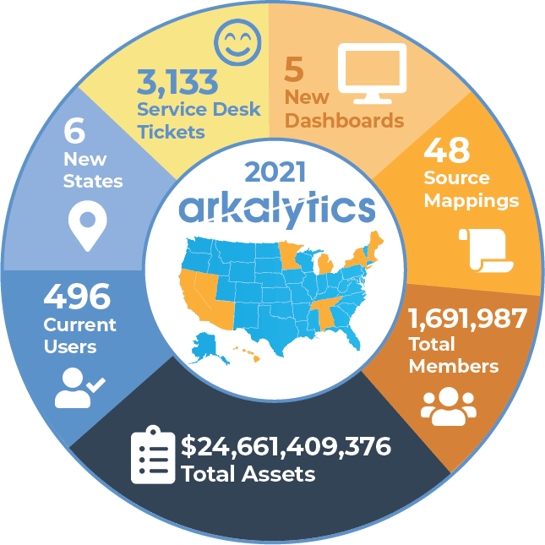 Arkalytics is never stagnant, every year we are improving and growing, and it's always great to reflect on the fruits of our labor! Our staff is consistently working on the development of dashboards to build value for our credit union and community bank clients, so they can ultimately better serve their members.
This past year, we introduced 5 new dashboards and grew our list of data source connectors to 48 banking software systems (and counting!).
It has been exciting to see our increased reach as Arkalytics has expanded into 6 new states. With this expansion, we experienced a 36% increase in the total members represented by the community of Arkalytics Credit Unions. As we continue to grow, we have achieved a 64% increase in total assets managed which now exceeds $24 billion in the past year alone.
Thanks to our awesome team, we are forecasting even more growth in the coming year, and are so excited for Arkatechture's future!
Happy New Year, from us to you!