T6 Health Systems - A Tableau Success Story
by Hannah Barrett, on February 2, 2022

Getting to Know T6 Health Systems
I recently had the opportunity to conduct an interview with a client of ours, Igor Muravyov, Co-Founder and Chief Strategy Officer of T6 Health Systems, about a Tableau project we've been working on together.
Before I met Igor, I had no idea who T6 was or that they were recently featured by Apple for revolutionizing trauma medicine & diagnostics!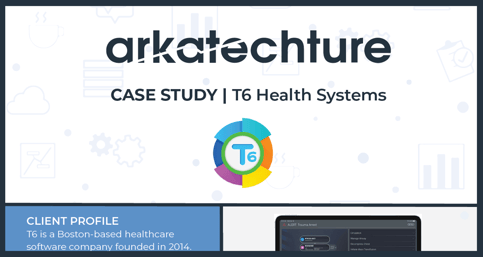 T6 is a Boston-based healthcare software company founded in 2014 that has developed an iPad app to support patient care with real-time, data-driven analytics and accurately documenting care on a patient's electronic health record (EHR).
It was exciting to learn about the cutting edge innovation that's taking place in the healthcare field. T6's application enables healthcare professionals to record data such as vitals and injury details into their app, which is then displayed on a screen for an entire trauma team to see.
The application displays guidelines and recommendations for care as well as predicted levels of risk associated with the patient's specific case and care options. These recommendations are known as "clinical decision support" which are based on historical medical data.
We founded T6 to focus on transforming critical decision-making at the point of care with real-time analytics of fast flowing patient data. This required a completely new approach to data collection, data processing, and data presentation. Today, running on Apple iPad, T6 software captures accurate, high resolution data faster than paper, and our algorithms generate patient-specific, evidence-based clinical decision support"


-Igor Muravyov, Co-Founder & CSO, T6
Data In Healthcare
Today, the communication of data is vital in the flow of how a patient is moved through a medical system. For healthcare teams caring for a patient who has suffered a traumatic injury, time is of the essence. For these reasons, it is imperative that the data speaking to their app is accurate and up to date, and that the dashboards and visualizations are user-friendly and easily interpretable in a fast-paced environment.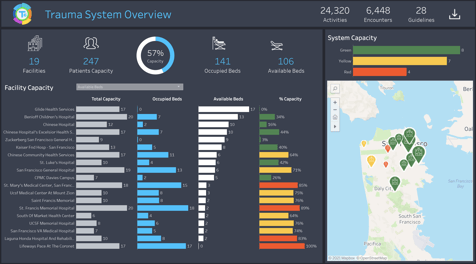 The Challenge
Manual chart reviews and the analysis of clinical treatment variability are time consuming and labor intensive. T6 needed a faster and more effective way to achieve the accurate real-time data they needed for risk prediction, and clinical decision support to help healthcare teams make informed decisions.
T6 data scientists and biostatisticians needed help developing these rapid, proof of concept dashboards to visualize health care processes and adherence to the clinical decision support tools embedded in T6, so they were on the lookout for the right Tableau partner.
The Solution
Igor Muravyov was first introduced to Arkatechture at a regional Boston-based conference where he and our CEO & Founder, Jamie Jackson immediately hit it off. From that point on, T6 knew that Arkatechture was the right company to trust with their vision. T6 partnered with Arkatechture and leveraged our Tableau professional services to develop the necessary dashboards to make their goals a reality.
Using Tableau, we were able to work with T6 to rapidly develop dashboards that could be consumed through the Tableau iPad application, or could be embedded in their custom application portal. "

- Katie Eagan, Chief Operations Officer, Arkatechture
Working with T6 has been such a fulfilling experience for us. During some of the more conceptual phases of the project, we were fortunate enough to do joint presentations with some of the end users of their product. Seeing the relief come across the faces of their end user (military, doctors, etc), to know that something like this exists and would ultimately save lives was humbling to say the least. We're excited and proud to partner with them and are excited to continue to help while also cheering them on along the way!"

-Jamie Jackson, Founder & CEO, Arkatechture
What's Next for T6?
In pursuit of better data, better decisions, and better outcomes, T6 plans to continue utilizing Arkatechture's Tableau consulting services to develop and improve their dashboards and ultimately improve their product.
Throughout our experience working with Arkatechture, we have recognized the dedication of the development team to deliver on-time and on-budget, and to always listening to feedback to ensure dashboards provide unique insights into some of the most complex processes in health care."

-Igor Muravyov, Co-Founder & CSO, T6
The Full Case Study
T6 is reimagining how real-time, data-driven analytics of fast flowing data at the point of care improves emergency and trauma teams' care for the most complex patients.
Read the full case study to learn more about how this fascinatingly innovative company is working with Arkatechture to improve how clinicians use point of care data.
If your small business needs help with Tableau, check out our services page here for more information or to talk with a Tableau expert from Arkatechture.