Arkatechture's 2022 Year In Review
by Hannah Barrett, on January 4, 2023
This has been an exciting year of change for Arkatechture. We spent the year growing, training, and evolving as both a team and as a company.
Let's take a look at some highlights from 2022!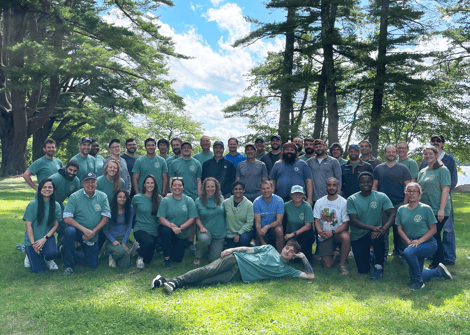 10 Year Anniversary
This September marked Arkatechture's 10-year anniversary! We celebrated together at Camp Wavus, in Jefferson, Maine, with some team-building activities, great meals, and quality time getting to know the team better.
Arkatechture CUSO

We formed Arkatechture CUSO, with Tucson Federal Credit Union and ORNL Federal Credit Union. Forming a credit union service organization (CUSO) and taking on investment from these partners has enabled our ability to grow our team to position ourselves as a leader within the credit union data industry, and further our passion for helping credit unions, their members, and communities.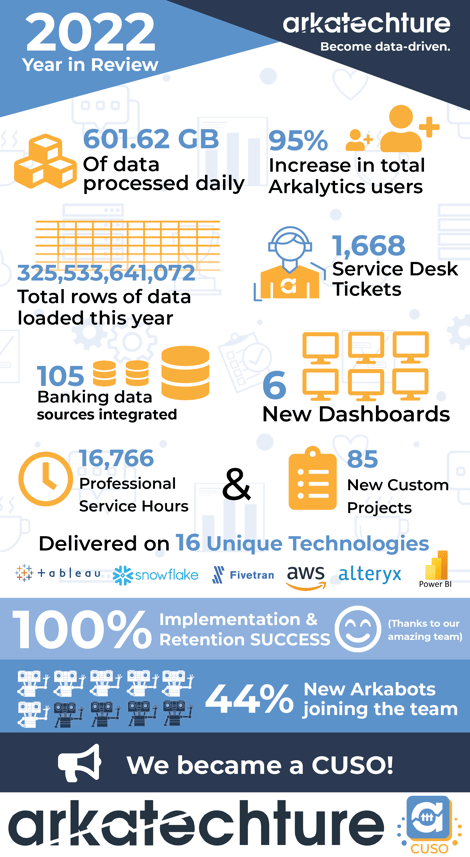 Arkalytics Annual Highlights:
This year, Arkalytics has set all kinds of new records.
Processed 601.62 GB of data daily on average
Seen a 95% increase in Arkalytics users
Loaded 325,533,641,072 rows of data
Completed 1668 service desk tickets
Integrated 105 banking data sources
Created 6 new dashboards
Seen 100% implementation and retention success
Arkatechture Professional Services Highlights:
On the other side of our business, custom development projects have been going strong as well!
We delivered 16,766 professional service hours for new and existing clients
Started 85 new custom projects using the following 16 technologies:

3 Cloud platforms: AWS, GCP, Azure
4 Databases: Snowflake, BigQuery, SQL Server, MySQL
3 ELT/ETL tools: Fivetran, Alteryx, Talend
2 BI tools: Tableau, PowerBI
4 Pipelining toolsets: dbt, Snowpark, Tasks/Streams, serverless processing
Employee Growth
We grew our team by 44%, including a key focus on our project management, development, and sales teams. While 60% of our employees live in Maine, we're excited that 80% of the employees who joined us this year are spread out across the country! With the growth of our team, we are glad to say that this year we have also upheld our position as one of the Best Places to Work in Maine for the fifth year in a row.

Office Gatherings & Beyond
This year, we were excited to get back out in the world, attending meet-ups, and connecting with our teammates and Arkatechture customers! While we have transitioned to a hybrid or fully remote work model for all employees, we are still headquartered in Portland, ME. We've had customers and the advisory team in the office this year, attended a few conferences, and had several customer on-site visits. It's been great to see lots of faces, new and old.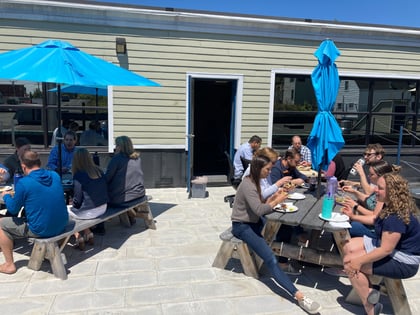 With a lot of growth and change continuing, we remain excited about the upcoming year and Arkatechture's future. Here's to 2023!